I had a lot of fun with one of the deviations today at DA. You can too!
Dress Up!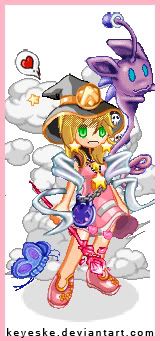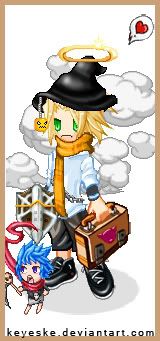 I made these two. They are twin sorcerers. The girl, Anaka, is the younger of the two. She does most the fighting in battles and has two gardians. The furry purple dragon is Bibi and she create dream escapes for enemies, 'causeing them to daydream and loose focos in battle. The butterfly is Nigaiyo, he is a friend they made while he was caught in a monster Spider's web. They rescued him and now he assists in battle by transforming into huge wings and attaching himself to Anaka's back.
The boy, Yanaka is the older of the two. His magic isn't as strong but he is skillful in potion making. In his briefcase, he carries potions, antidotes, and pastes to help heal and cause damage to enemies. He has a shield given to him by a goblin clan. It is very strong and has never failed to shield the weaker brother during battle. His sister Anaka, enchanted one of his childhood dolls to be able to fight for him. Even though the doll Nonos, is small, He is effective in causing damage and does what he can to protect his playmate.
Hope ya'll try it out, it was fun ♥
Current Music: Breate Caolina - The Birds and The Bees